How to Begin Texting a Guy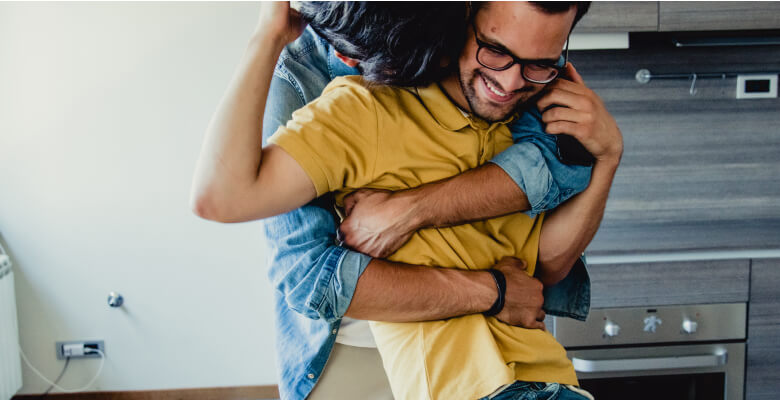 Texting might seem old-fashioned, but it provides a simple way to make a connection without the pressure. People seem happy to send that initial text because there's nothing to lose. An initial text won't instantly create that dream relationship, but it provides a platform to get things moving. Whether you're seeking love or a casual date, a text can make a difference. Begin by introducing yourself and informing them how you know them. Explain how you enjoyed meeting them or chatting with them online or in that busy bar where he might have met many other guys. Describe how you met and touch on why you have contacted them because that's the ideal way to begin the process of getting to know them.
What to Talk About When Texting a Guy
Chatting to a guy via text provides a special opportunity for unique chats and discussions. As you're hidden behind your smartphone, you'll have the confidence to push boundaries. Of course, don't push too much but keep the conversation general, to begin with. Ask about their interests, where they've been, and what they're doing. Touch on dating and where they prefer to look for romance. Keep the conversation open and exciting while an edgy and slightly provocative text conversation can keep them interested. Refrain from exploring their sexual desires but keep chats simple and easy-going. It's only later that you can begin asking more advanced questions about their personal desires.
How Do I Share My Feelings with Him Through Text?
Your feelings form an integral part of the dating process. If you're chatting with guys you're serious about, then sharing feelings is crucial. Take the approach that they're into you; after all, they're chatting with you. This positive sign could encourage you to make that step and share your feelings. Perhaps you need something more from him? Maybe you want to ask him for a drink or a coffee? Your feelings can guide you one way or another, the right way or wrong way. Remember to share feelings if he reciprocates your interests. Does he seem keen? If so, tell him you've enjoyed chatting and would love an opportunity to meet up and chat because you like him. You've nothing to lose but plenty to gain.
How to Seduce Gay Men
Seducing gay men requires an understanding of the individual. Are they outgoing, flirty, and chatty? Perhaps they're quiet, shy, and more reserved? Therefore, seducing a guy requires an approach that's considerate and understanding. Keep the flirting subtle and increase the tension and passion. Keep them hanging on with naughty hints of what you want. Explore their wishes with intimate messages explaining your desires and feelings. Avoid diving in with messages that have sexual undertones. Keep it smart and clever to keep them wanting more. Explain what you'd like to do with them. Meet up, walk holding hands, and enjoy a romantic meal together. Explore that mystery and intrigue without lowering the tone of the conversation.
Seduce gay men by:
Keeping them needing more
Don't be too sexual
Be subtle and flirty
What You Need to Know About Chatting to a Gay Guy Online
Meeting a gay guy online is an amazing experience. Online dating provides instant access to informative profiles. Therefore, you'll have an opportunity to learn all about them. Having this information assists you in starting conversations. Chat about elements of their profile, such as hobbies and interests. Discover what they're seeking and why, and ask them about their profile photos. With more information ready and waiting, the groundwork is taken care of. This enables conversations to flow easily and effectively, allowing you to discover more about them. What's more, you've got a greater chance of building a healthy relationship.
Rules You Should Follow When Texting Guys
Texting guys comes with unwritten rules that you're expected to follow. There's no rule book, just rules that everyone abides by when meeting and flirting. Texting can encourage you to break down barriers without a care. However, avoid this approach; it'll only cause problems. Keep conversations simple and easy-going. Avoid touching on sexual desires and needs. Texting is about discovering more about them and building a relationship. Sure, subtle flirting is necessary but keep it easy. Any awkwardness creates a reason for them to ignore your latest text. Be honest, open, and fun, keeping the conversation intriguing and exciting.
How to Avoid Being Obvious When Turning a Guy on by Text
Turning a guy on by text requires a technique and understanding without being overpowering. Texting can force people to dive in and make mistakes but avoid this situation. Getting closer to guys by text with flirting requires subtlety and teasing. Leaving guys feeling intrigued and excited involves touching on your feelings. Subtle winks and naughty messages can leave them feeling passionate and in need of more. Avoid being serious and over-the-top because it'll feel too obvious and forced. Turning a guy on requires understanding, respect, and the ability to keep desire burning.
How to Get a Guy Hard Fast Through Text
Getting a guy hard fast through text is simple. Keep texts naughty and flirty while touching on how you would be passionate when with them. Explore what you'd like to do and how they should reciprocate that. Imagination underpins successful flirting, ensuring you get them hard instantly. The teasing and excitement you create will leave them wanting more. They'll instantly feel the passion and will want more!
Texting Guys Isn't Too Difficult
Meeting a guy by text isn't challenging. Don't overthink the situation and allow the opportunity to chat inspire you. Have confidence and share needs without sharing too much because intrigue is vital. Texting provides a great solution for building a relationship, allowing you to move onto the next phase!