Suspect that your husband may be gay? Here's how to know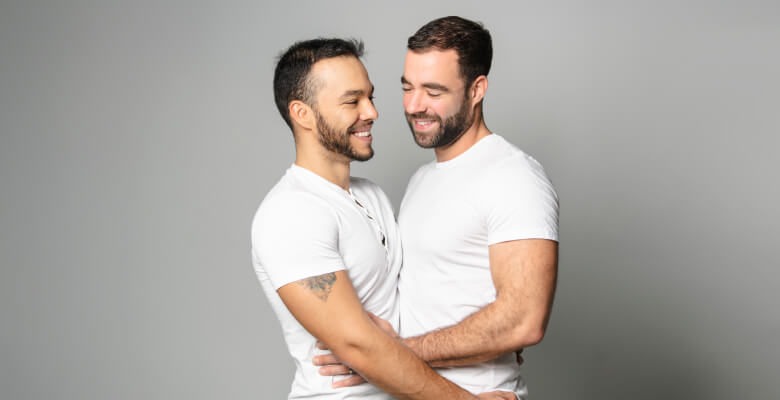 As you know a man better through dating, you feel closer over time. You learn his likes and dislikes and develop patterns of communication, friendship, and intimacy. You do the things couples enjoy, which can include marriage. When you feel your emotional bond is at risk, it makes waves in your world. It feels like a healthy relationship can be violated by discussing it with other people. Suddenly, you question whether intimacy will continue. Sometimes, this disruption results from your man struggling within himself. He has trouble defining who he is and what he feels for you. If he suddenly gets urges for men, he might view them as betraying you. He might hide them instead of discussing them. He won't hurt you until he sorts these feelings out. Or, he can become depressed and withdraw.
Building a Family
You can be in a relationship with a man for years, get married, and have children. You can assume he will always be around. One day, he can act like he is no longer in the relationship. This type of rejection hurts, making you doubt everything you know about him. It can harm the dynamics with your kids. Before you jump to conclusions, consider what his behavior says about his emotional state
Dating Tips
If you suspect homosexuality, you will love this blog post. Being a straight female means having expectations a male can fulfill, including making love to you, being a life partner, sharing romantic love, and fathering children. If the relationship changes after you're attached, any big change in his behavior affects you. Look within your heart and see how important this relationship is. What path will you take if he changes his sexuality and rejects the relationship?
Is Your Partner Gay?
We've all assumed a married man's sexuality. We might decide based on his tone, mannerisms, or appearance. We might judge how he dresses or his interests. Or, we might assume based on things we can't describe. You have questions like these:
What happens if you suspect your boyfriend or husband is gay?
Where does it leave a straight woman if her partner comes out?
Should someone who is gay come out?
Should he stop lying about his sexuality to himself and to his partner?
It's hard to not make this about you. It's hard to approach this from a loving perspective, to understand and forgive him, to heal, and to move on. These are things you can't do until he decides. How to tell if your husband is gay bothers you, but it's his decision. Being in a hetero relationship or exploring the gay lifestyle affects all his loved ones. If your man comes out, it takes some adjustment. It shouldn't have negative connotations, but everything changes.
How to Flirt With Your Husband
Some women make stronger advances to gauge their partner's response. They have strong feelings for their guy but want a long-term resolution. If someone leaves you for another guy, it differs from him choosing another girl. Feeling uncertain is hard. However, forcing him to decide what he is - gay or straight - can offer closure. If you aren't happy in the relationship, his decision might be a relief. If you are emotionally attached, losing the connection would be traumatic. Relationships end all the time, and both people move on. They can meet a new partner in the future. Remember, you create your own happiness. Don't depend on a partner, as relationships work only in case they are mutually beneficial. To continue in the relationship, expect him to maintain open and honest communication and treat you how you want to be treated. If you don't get the responses you want, then re-evaluate whether to stay with him. You might be better off alone than going through this turmoil.
Common Signs of Homosexuality in Married Men
Quite frankly, many men still take a wife and reproduce to meet other people's social expectations. If you are with a married man who wants to be gay, it can quickly become awkward. You can lose your family and observe long-term negative effects on your kids because they see their parents' relationship change too much. If you feel bitter or hurt, you also find it hard to move on. It all depends on how you deal with a breakup, whether it becomes something your kids can accept. Here are some signs to look for:
You find gay magazines lying around.
You find his gay dating profile online.
You realize he spends more time at the gym to meet a male interest.
He hides his phone and won't let you read his texts.
He stops going to worship services or other activities for fear of being judged.
He stops being flirty, showing affection, and/or having sex with you.
He doesn't recognize your birthday, anniversary, Valentine's Day, and other couples' occasions.
He treats you negatively in ways he previously didn't.
He communicates less or avoids you.
He blames you for everything going wrong in his life.
How to get a guy's attention without talking to him
If you're worried, he is spending less time with you or is distant, pays attention. Try adjusting your schedule to spend more time with him. He might avoid this contact. When you make sexual overtures, he will choose a response. It's hard to know what he will do, especially if he struggles with gayness. In the end, acceptance of his sexuality will be best for him and for your healing process. There is no way to predict how long this will take. Prepare to give him time to make his decision, but keep going forward with your life and what's best for you in the meantime.